SIETHERM, clay plaster and clay caint
-The famous feel-good climate!
Installation of modules  –  clay plaster  –  clay design plaster and/or clay Color
Thanks to the prefabricated modules, SIETHERM is ideally suited for self-assembly . In the finish with clay plaster, clay design plaster and/or clay color your creativity knows no limits in the design. Add a personal touch to your clay design plaster by adding a variety of additives, or choose your favorite from a variety of clay colors.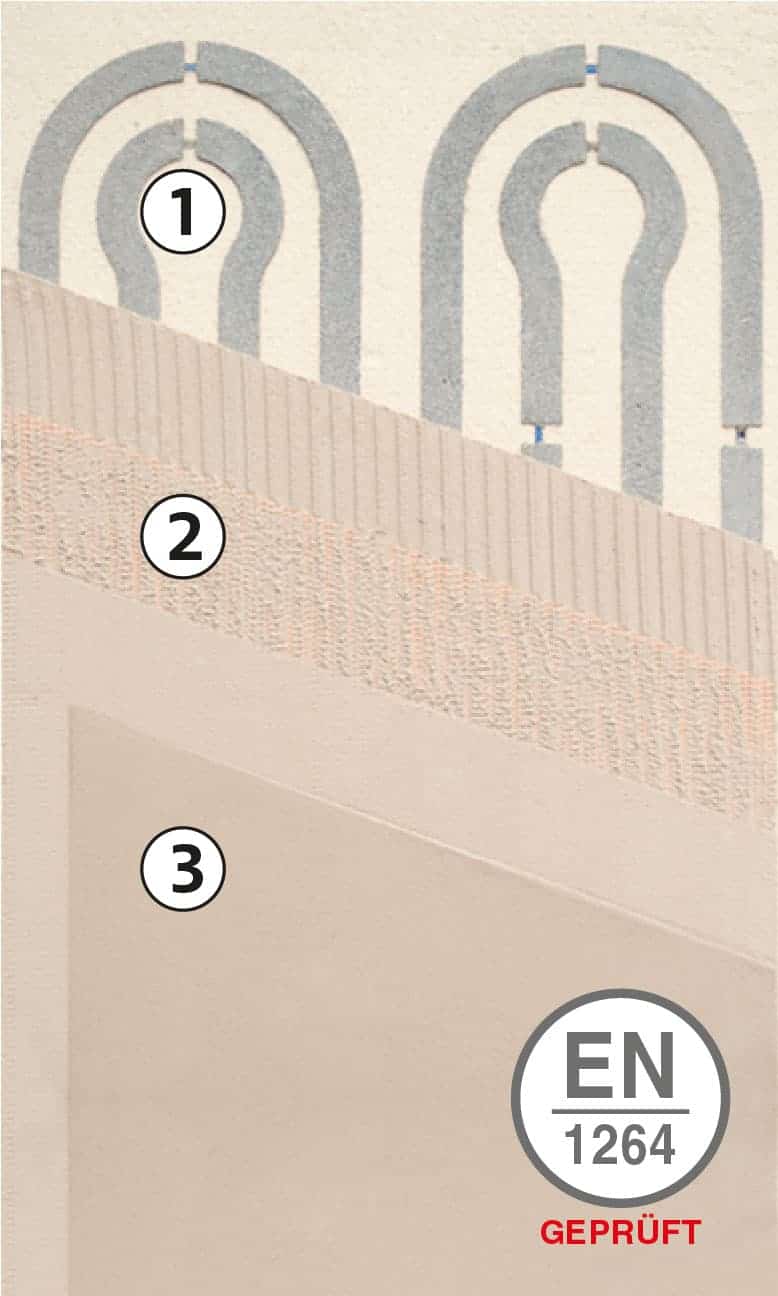 1. Installation of wall heating elements
For wooden substructures:
Fixing with wide-angle braces.
On existing load-bearing old plaster or concrete surfaces:
1) Clay primer "the Yellow"
2) After drying, apply clay adhesive to the back of the modules with a toothed trowel and press firmly against the primed surfaces. 4 knock anchors per module improve the contact pressure and increase the retention capacity. A full surface as possible defect-free contact closure with the substrate must be guaranteed.
2. Preparation, basic and reinforcement situation
For plaster, the panels must be dust-free. Gaps of more than 1-2mm width or recesses must be filled out beforehand with clay gluing and reinforcing mortar.
After drying, the surfaces are coated approx. 3mm thick with clay adhesive and reinforcing mortar. It can also be sprayed with the cleaning machine, while no rest periods are necessary.
In the still wet surface, glass silk fabric becomes at mind. 10cm overlapping incorporated.
With a compressive strength of 3.9 MPa and a bond strength of 0.85 MPa, the cellulose stabilized clay adhesive and reinforcing mortar ensures the strength of the entire construction.
3. Upper plaster fine- as preparation for free design options
After drying, clay upper plaster is applied finely approx. 2mm thick. The surface is mostly grated.
Now your wall is ready for finish with clay design plaster and/or clay paint.
4th colored final coating
Clay design plaster
The areas are particularly careful and just prepared. Clay design plaster is available in 140 natural shades of unusual color depth (without dyes and pigments). It is applied 2mm thick. The surfaces are finely grated or smoothed.
Clay protection combines ecology and building biology like no other building product.
Depending on the processing, a wide variety of surfaces are possible. No further surface treatment is required. Add a personal touch to your clay design plaster by adding various additives. For example, the addition of gold-colored straw fibres creates a slightly rustic structure. If you mix mica, you get a slightly sparkling surface, which looks especially good with clay design plaster in the color shale.
As structural additives we offer straw, various plant fibers and mineral additives (granite, mother of pearl and glass glitter).
Clay color
If you want a different shade, you have a great variety of colors in clay paint available. After drying the clay plaster, prime the surfaces and, depending on the desired shade, paint 1-2x with clay color.
Clay paint is a paint without the addition of pigments or artificial dyes. The shades result from the clays used. It is diffusion-ready and breathable. In combination with clay plaster the ideal combination for your indoor climate.
Find out now, without obligation, about SIETHERM wall heating and cooling
Office
Gewerbepark 1
A-6346 Niederndorferberg/Tirol